Regular price
Rs. 399.00
Sale price
Rs. 359.00
Unit price
per
Sale
Sold out
3 Offer Available
EXTRA 10% OFF on PREPAID ORDERS by using Debit/Credit Card/UPI
SALE: Upto 20% Off On All Orders

Order On
WhatsApp
100% NATURAL, PURE, UNREFINED
PREMIUM QUALITY SEED
QUALITY GUARANTEED
RICH IN NUTRIENTS
SKIN MOISTURIZER
PROTECTS FROM SUN DAMAGE
SUITABLE FOR ALL SKIN TYPES
EASY, NOT GREASY 
Share
Ingredients

Jojoba oil, extracted by cold pressed method.
How to use

Topical use on Skin and Scalp
View full details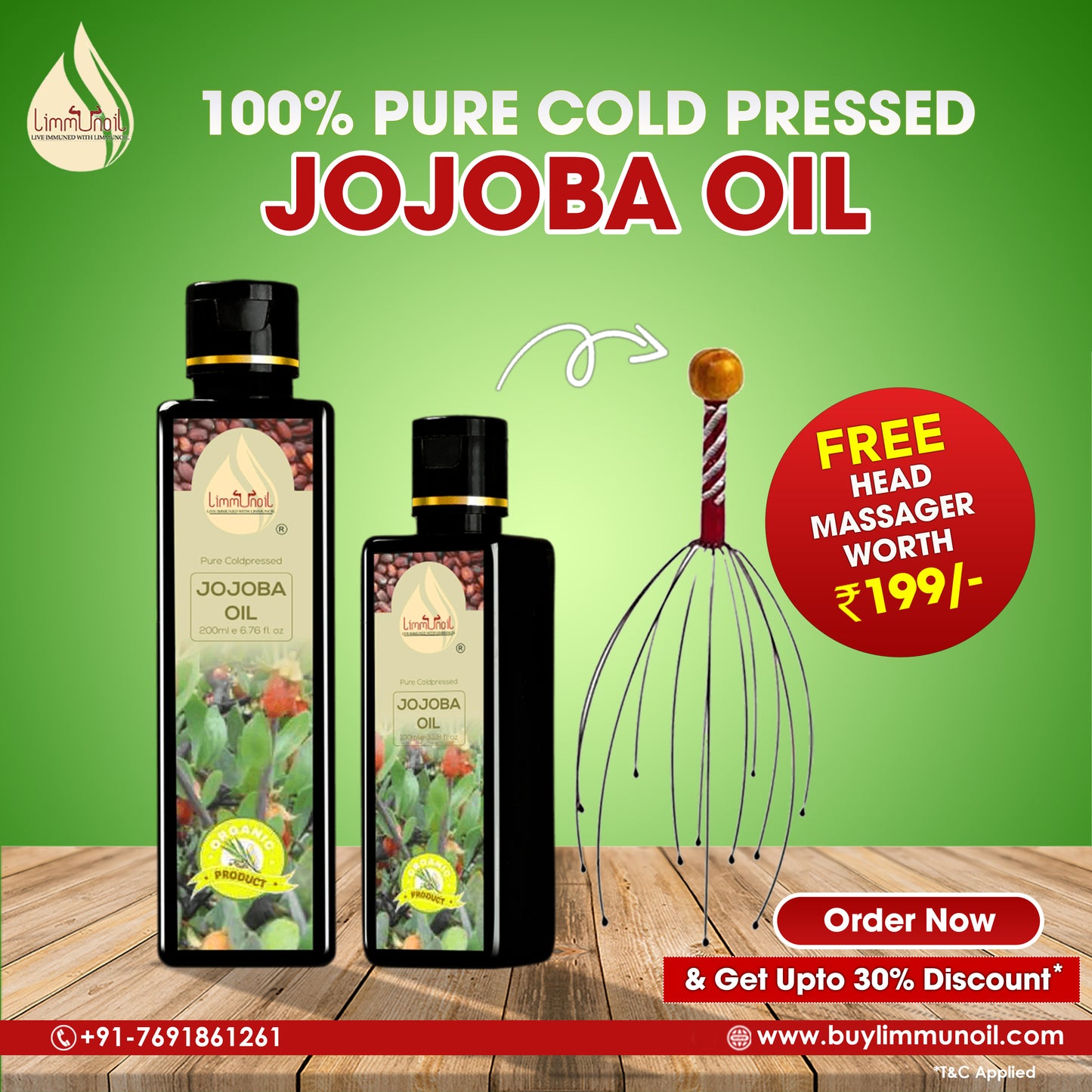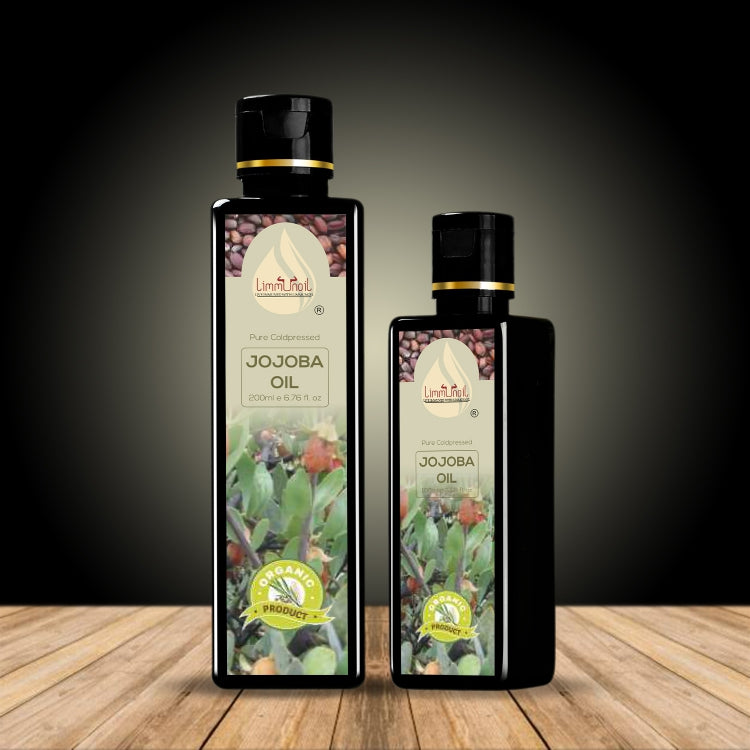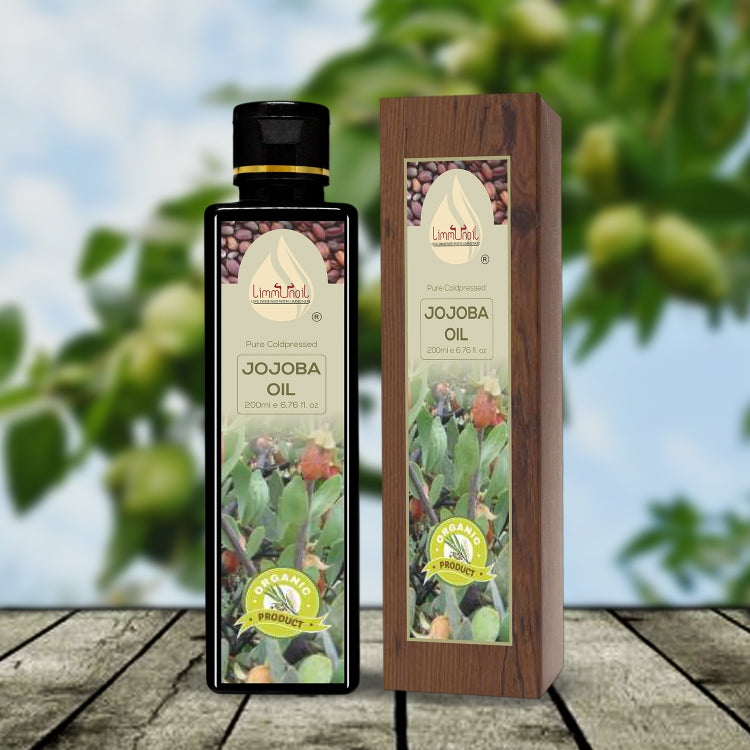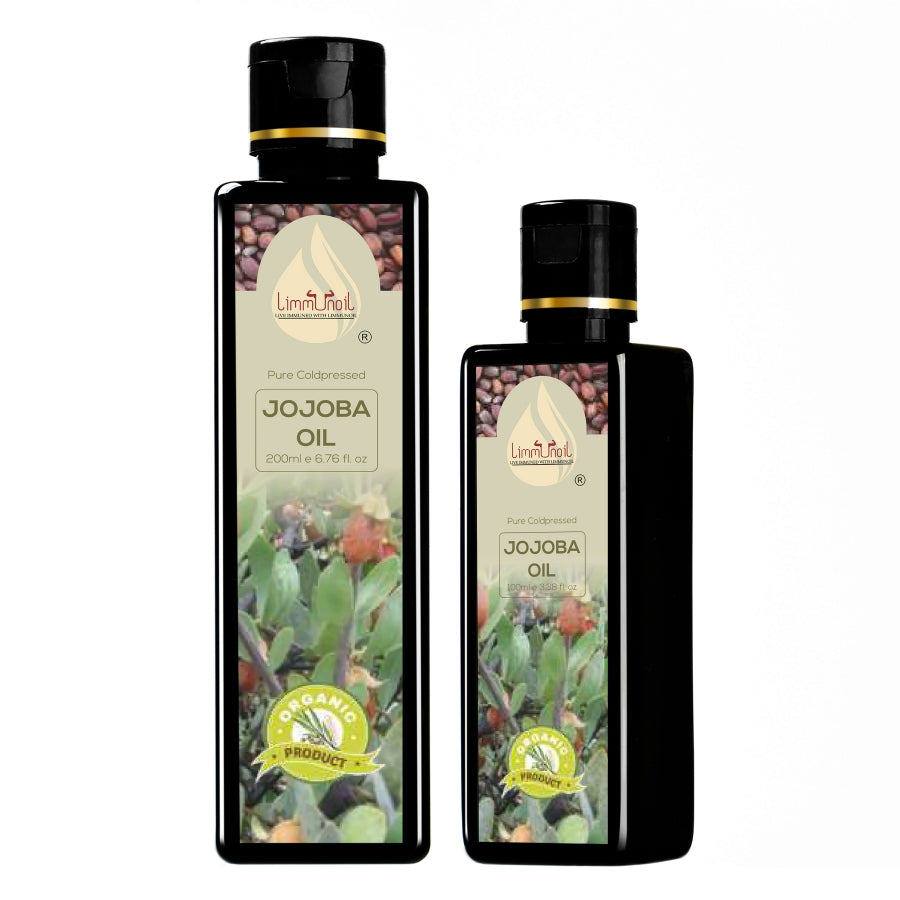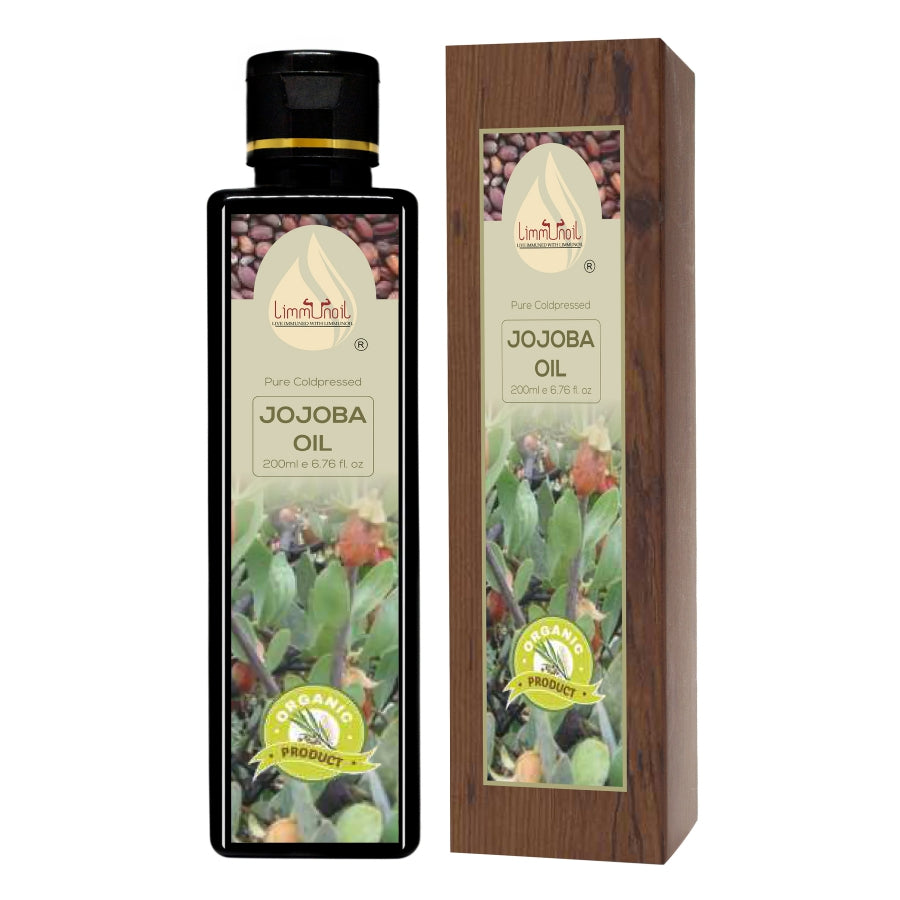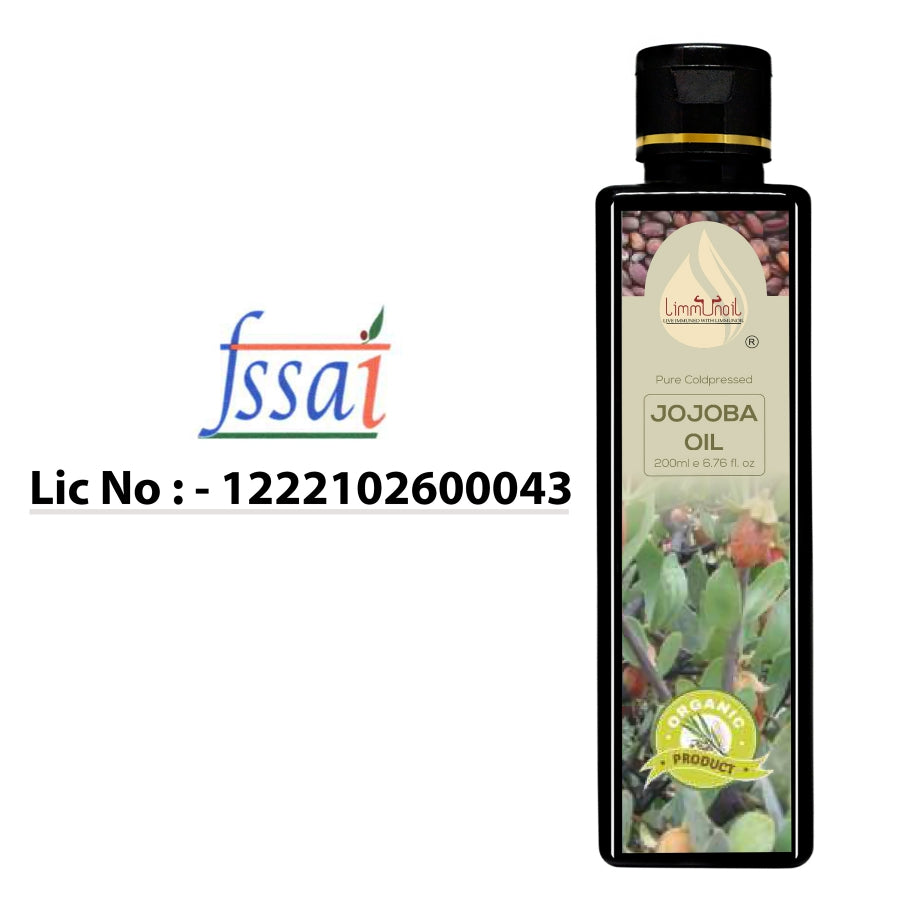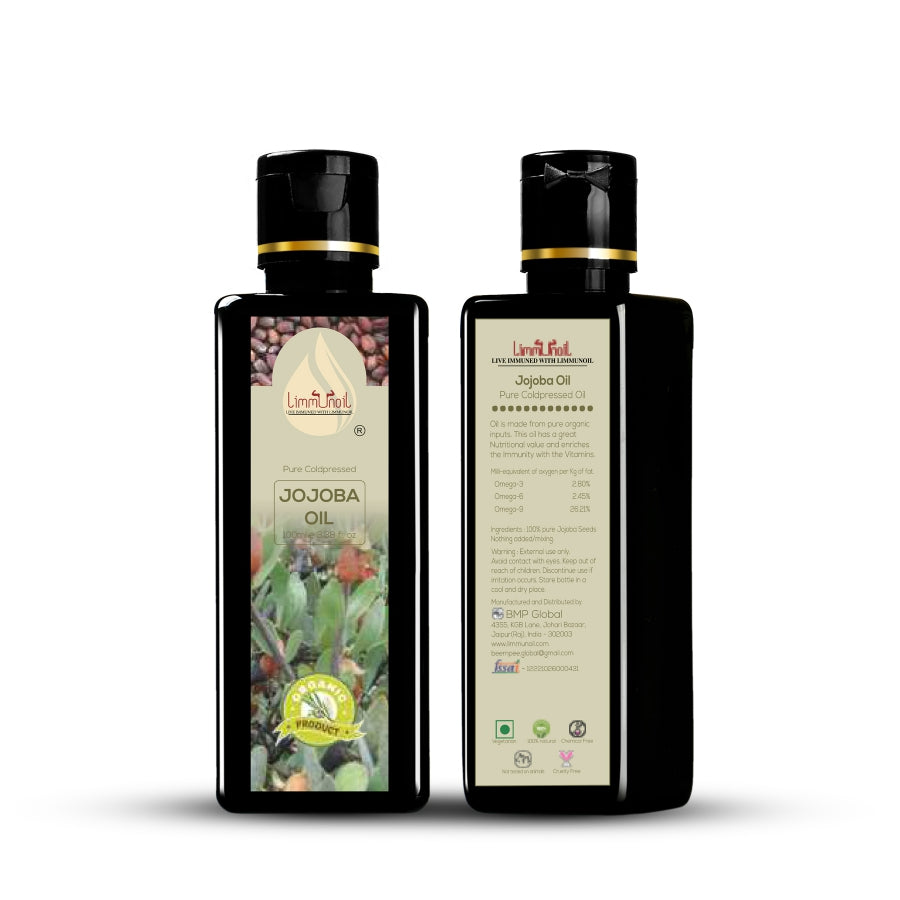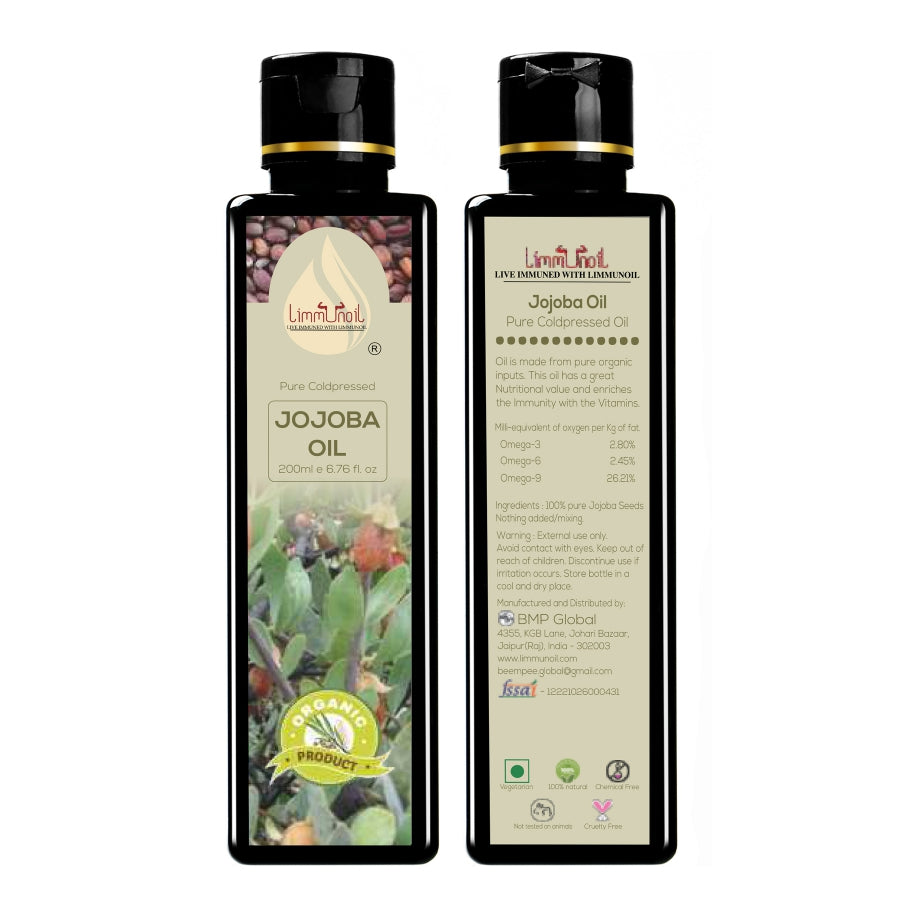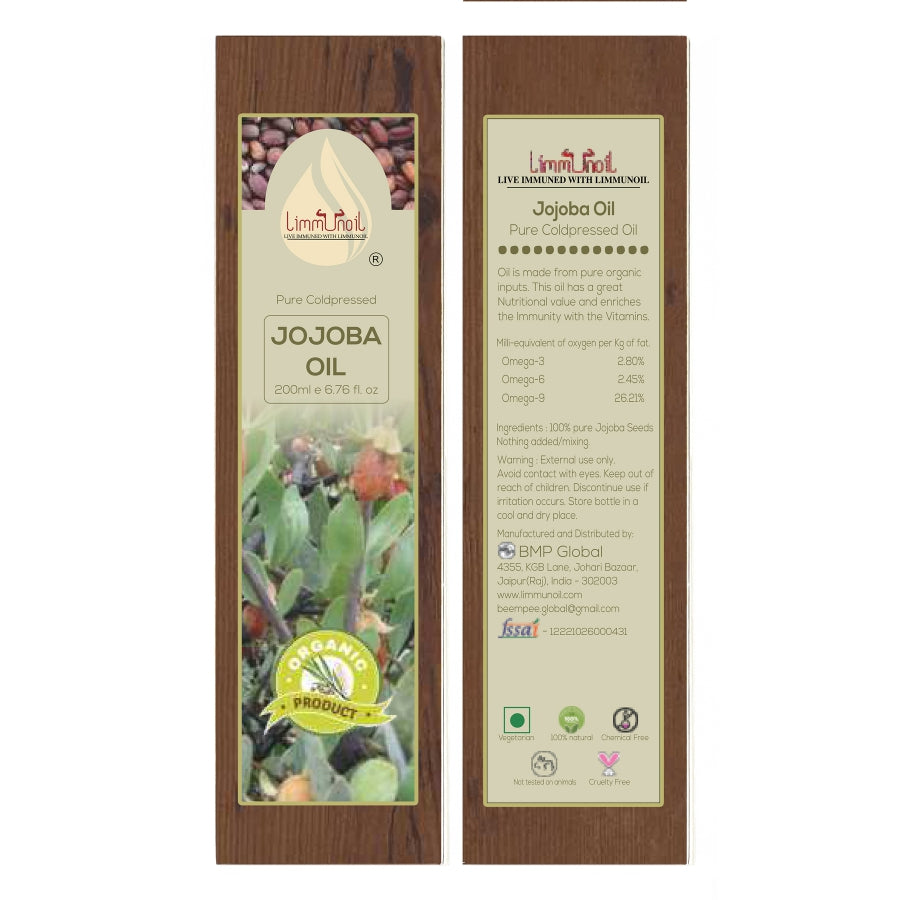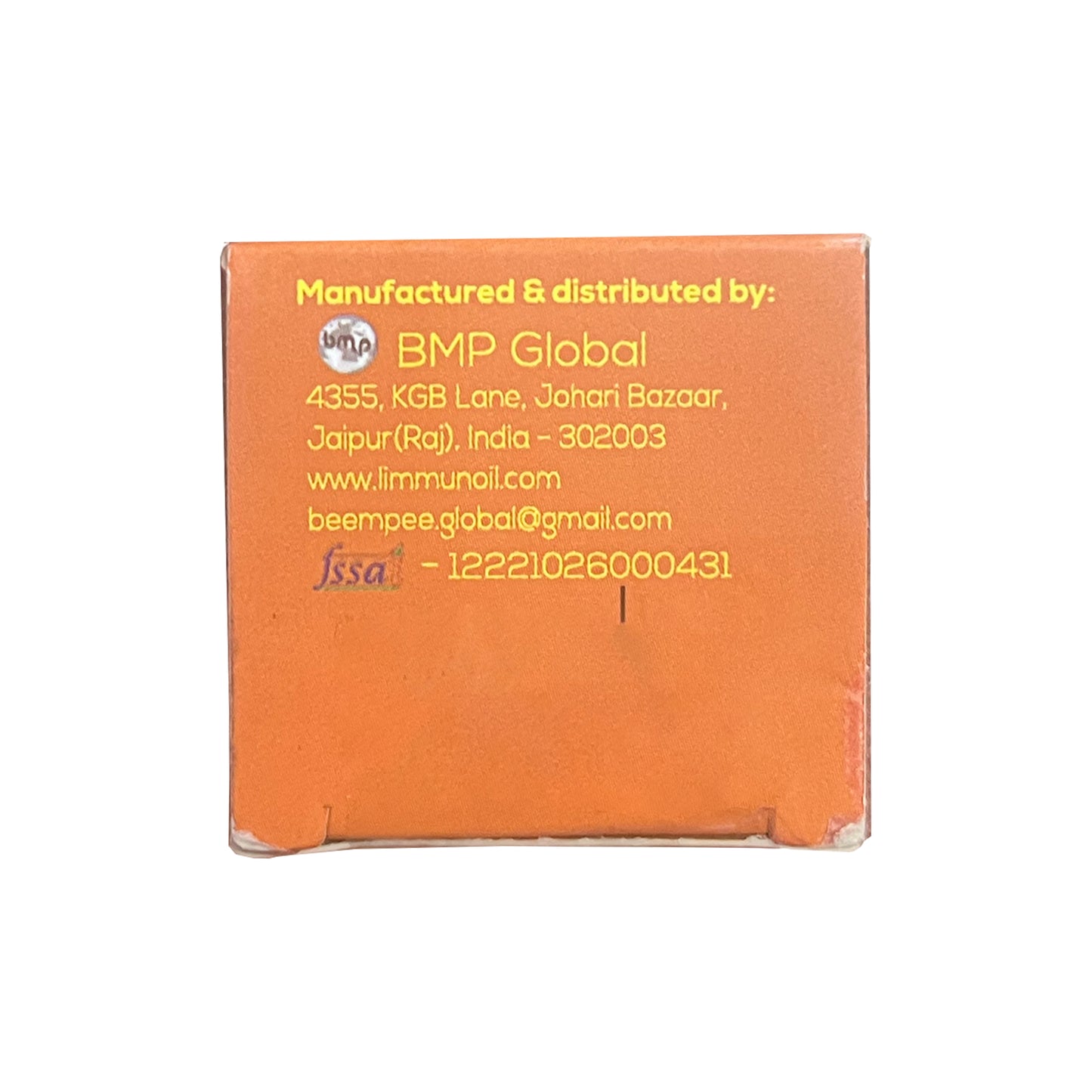 Benefits
Hydrates the Skin

It's a humectant (attracts water) which keep skin hydrated.

Suitable for Sensitive Skin Type

It's hypoallergenic and typically nonirritating. Suitable for even highly sensitive skin types.

Suitable for Acne-Prone Skin

It is similar to Sebum (natural oil of your skin) and moisturizes your skin while regulating sebum production.
Frequently Asked Questions
Why Limmunoil Seems Expensive ?

At the first glance, it seems that we're expensive than other competitors on the market but in a real sense Limmunoil is value for money. Why?

First we extract oil by Hydraulic Press method. Which is the best way to extract the oil from the seeds. It doesn't involve human touch as well as not suspected to the environmental contamination. (Most our competitors extract oil in the open environment and you'll never know that wether you consuming oil or mixture of insects and flies).

We follow hygienic process while complete oil extraction process.

We don't add water in the extraction process.

Oil is extracted at room temperature (29 °C).

We provide 100% Pure Cold Pressed Oil in the True Sense.
What are Our Values ?

ॐ सर्वे भवन्तु सुखिनः

सर्वे सन्तु निरामयाः ।

सर्वे भद्राणि पश्यन्तु

मा कश्चिद्दुःखभाग्भवेत् ।

ॐ शान्तिः शान्तिः शान्तिः ॥

Means

"Om, may all beings be happy and at peace;

May all be free from suffering;

May all see what is auspicious;

May no one suffer.

Om peace, peace, peace."

We pray for the well-being of the Human Kind because you cann't achieve higher values in your life with a malfunctioning body.

We aren't just another camouflaged organic cold-pressed oil brand in the market, we are here to serve our people. We believe in the Indian Culture and our herbs are enough to deal with all your health problems. 
What is the shelf life of Limmunoil's cold-pressed oils?

Limmunoil's cold-pressed oils are known for their exceptional quality and freshness.

The shelf life of Limmunoil's cold-pressed oils is carefully preserved through our meticulous production process.

Typically, our oils have a shelf life of 1 to 3 years (Each oil have their own) when stored in a cool, dark place away from direct sunlight.

We recommend using Limmunoil's cold-pressed oils within this period to enjoy their optimal flavor, aroma, and health benefits.
Are Limmunoil's cold-pressed oils organic?

Yes, Limmunoil takes pride in offering a range of cold-pressed oils that are organic.

We source our ingredients from trusted organic farms and ensure that no synthetic pesticides, fertilizers, or harmful chemicals are used during cultivation.

Our commitment to organic practices guarantees that Limmunoil's cold-pressed oils are free from any genetically modified organisms (GMOs) and are produced in an environmentally sustainable manner.

By choosing Limmunoil, you can enjoy the goodness of pure, organic cold-pressed oils that promote your overall well-being.
Cold Pressed jojoba Oil For Skin


Cold Pressed jojoba Oil has many therapeutic benefits and helps address acne, psoriasis, eczema, and other skin conditions. It is effective as a moisturiser, cleanser, or spot therapy to reap its advantages. Usually, it doesn't need to be diluted and may be applied to the face or body parts.

Jojoba oil is a popular ingredient for several individuals' skin care regimens since there are valid explanations behind it. Using unadulterated Cold Pressed Jojoba Oil from Limmunoil as a treatment for acne, dry skin, and many other skin issues is backed by a wealth of research.

Our oil offers numerous benefits for the face, hair, and skin. It is suitable for every skin concern and type and has been precisely produced for you to get a beneficial, price-worthy product which is entirely effective and beneficial.


Is Cold Pressed Jojoba Oil good for skin?

Jojoba oil controls sebum production since it closely resembles the sebum naturally generated by your body. Skin is calmed and moisturised when jojoba oil is applied to it. It informs the sweat follicles and hair that your epidermis doesn't require more sebum to keep it hydrated.

It assists in preventing acne brought on by clogged pores and prevents skin from appearing oily. Some of the Cold Pressed Jojoba Oil benefits for face are as follows:

Moisturising-
Jojoba oil draws water to the epidermis, keeping the skin moisturised. It could aid in preventing the development of bacterial illnesses and acne.

Anti-Bacterial-
Antifungal and antimicrobial qualities can be found in jojoba oil. It eliminates certain fungi and bacteria

Anti-Oxidant-
Vitamin E is present naturally in jojoba oil. This vitamin functions as an antioxidant for the epidermis. It indicates this oil may aid in defence of your skin against oxidative stress brought on by regular contact with toxins and pollutants.

Hypoallergenic-
Jojoba oil is a molecular lubricant that may penetrate your epidermis. But because it is waxy, it may instead form a calming coating on the surface. Jojoba oil usually doesn't irritate the skin like other plant essential oils. Rare allergic reactions occur because of jojoba oil.

Collagen Synthesis Booster-
Jojoba oil's vitamins could encourage the body's natural collagen production. Your joints, skin, and cartilage-covered bodily parts all contain the protein known as collagen.


Is Cold-Pressed Jojoba Oil Comedogenic?

Jojoba oil is an organic compound, but despite this, your skin can't identify the difference between it and the sebum (oil) your body typically generates.

It reduces the likelihood that it will accumulate on your face and contribute to pores clogging, which results in less chronic acne and fewer breakouts.

Direction of use

With age, collagen levels decline, and it contributes to the alteration of your facial structure. Anti-oxidants used topically are associated with increased collagen production. You can apply Cold Pressed Jojoba Oil for face and skin using the following directions-

Jojoba oil could be applied straight to the skin without dilution.
Administer three to four drops of jojoba oil to the inner wrist.
Wait 24 hours after applying a bandage to the region.
Check the skin's condition by removing the patch.
It could be used as an anti-ageing lotion on your face before night or as a lip balm to moisturise chapped, dry lips.
Jojoba oil is an oil-based well-liked makeup remover because, unlike many other components, it can be used around the eye region.

Which Is The Best Cold Pressed Jojoba Oil For Skin ?

Limmunoil's Cold Pressed Jojoba Oil is a great pick for the best oil for skin. It gives you the following benefits:

- Our 100% natural, Pure, Unrefined Cold Pressed Jojoba Oil is effective for moisturising and cleaning their skin.
- The oil is made from Premium Quality Seed.
- This product is Quality Guaranteed.
- Jojoba Oil is Rich In Nutrients, making it the perfect skin care product.
- The oil is a Skin Moisturizer.
- It Protects From Sun Damage; therefore, it is the ideal pick for those whose skin is sensitive to sun rays.
- It is Suitable For All Skin Types. So, people with any skin type can use our oil.
- Since our Jojoba Oil is extracted using the cold-pressed method, its application is Easy, Not Greasy.

Therefore, trying Limmunoil's Cold Pressed Jojoba Oil will give your skin the moisturiser and cleanliness you seek while preventing many skin issues. Your hair will also shine and eliminate dandruff, dryness, split ends, and breakage.

Limmunoil
In this competative market, where most of the so called natural brands sell you a bottle of Mineral oil in the name of Coconut or Almond oil; Limmunoil, on the other hand following the path of legendary Shree Rajiv Dixit ji aims at providing the highest quality cold-pressed oil with Zero tolerance of adulteration, heating and mixing of oils.
We believe in Ayurveda
We believe in Swadeshi
We believe, if you consume our traditional herbs in its purest form, most of your health problems will go away, so
Lets take a step towards Purity.
#noadulteration
#gowithayurveda