Regular price
Rs. 399.00
Sale price
Rs. 359.00
Unit price
per
Sale
Sold out
3 Offer Available
EXTRA 10% OFF on PREPAID ORDERS by using Debit/Credit Card/UPI
SALE: Upto 20% Off On All Orders

Order On
WhatsApp
100% NATURAL, PURE, UNREFINED.
PREMIUM QUALITY SEED.
QUALITY GUARANTEED.
RICH IN NUTRIENTS.
BENEFICIAL FOR BABY SKIN & HAIR.
SKIN MOISTURIZER.
PROTECTS FROM SUN DAMAGE.
NO SIDE EFFECTS.
SUITABLE FOR ALL SKIN TYPES. 
EASY, NOT GREASY.
Share
Ingredients

Jojoba oil, extracted by cold pressed method.
How to use

Topical use on Skin and Scalp
View full details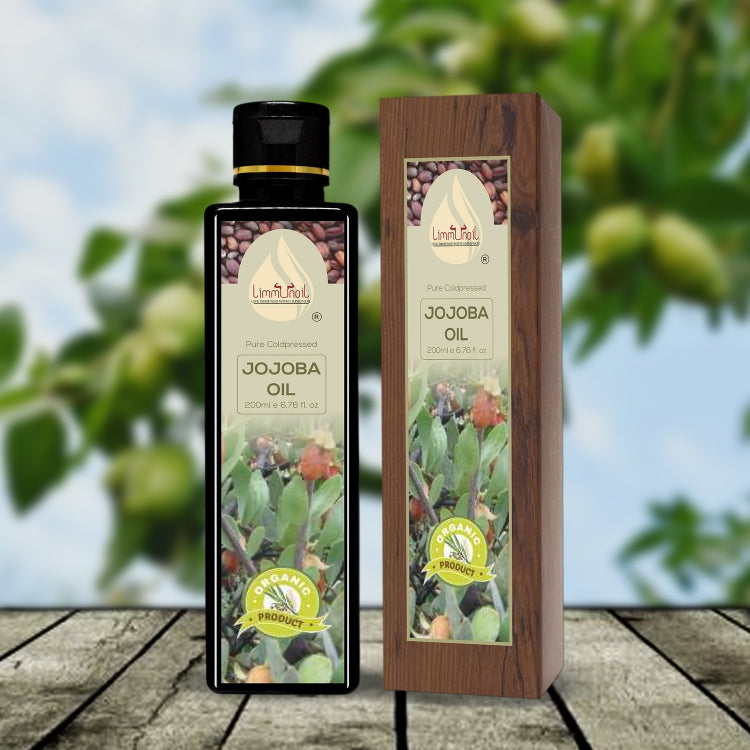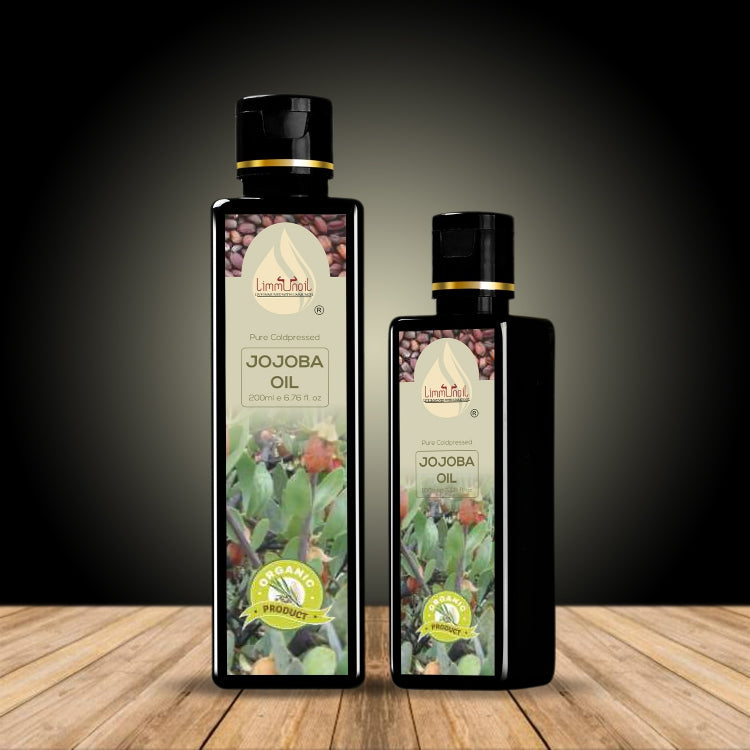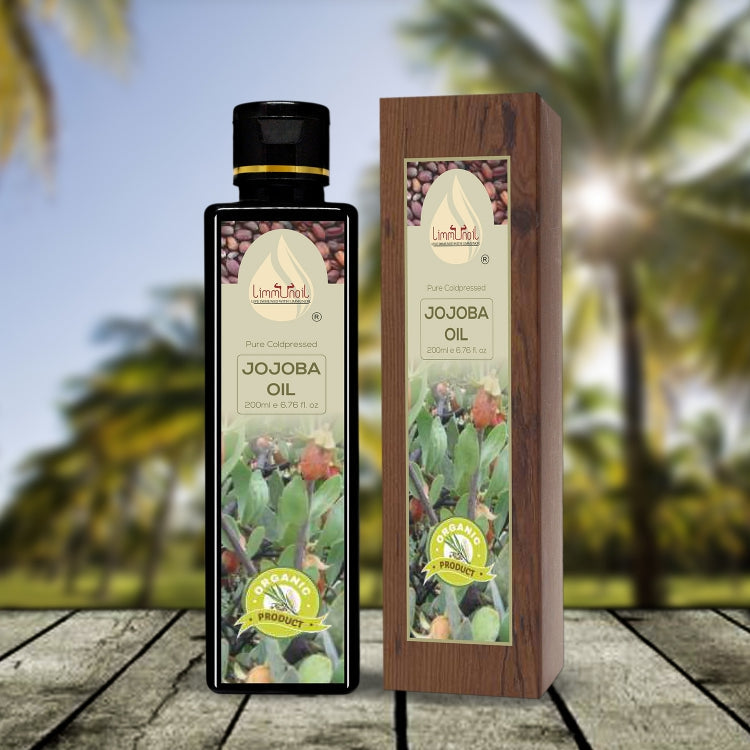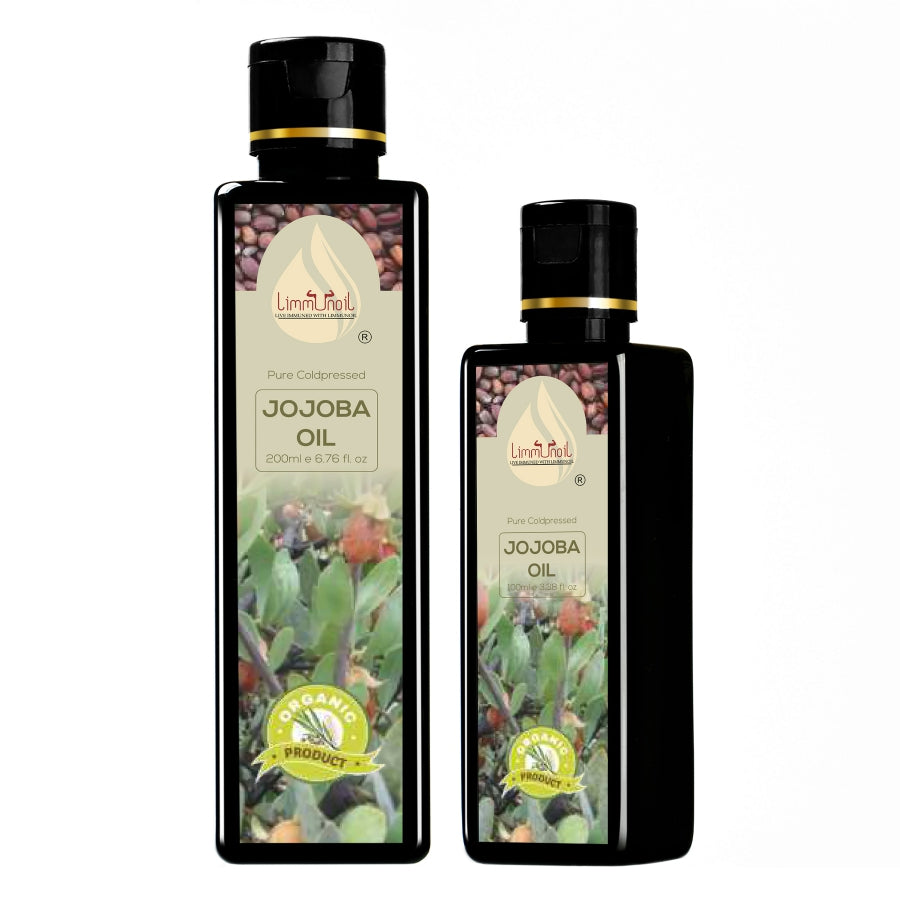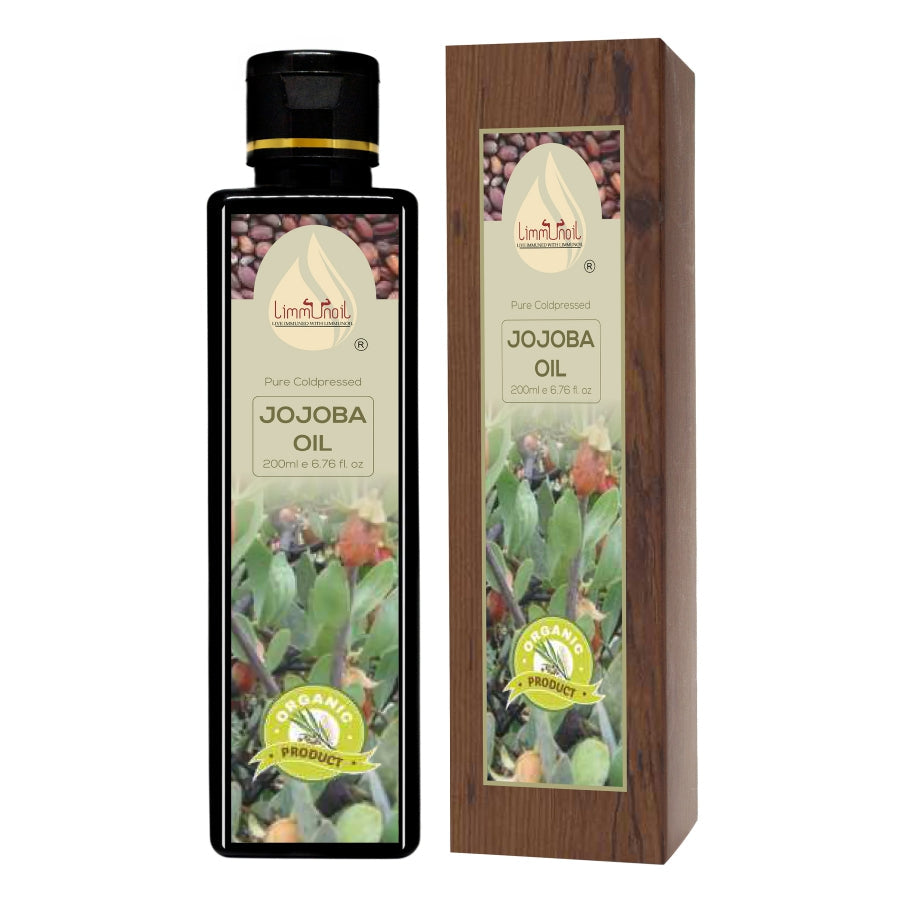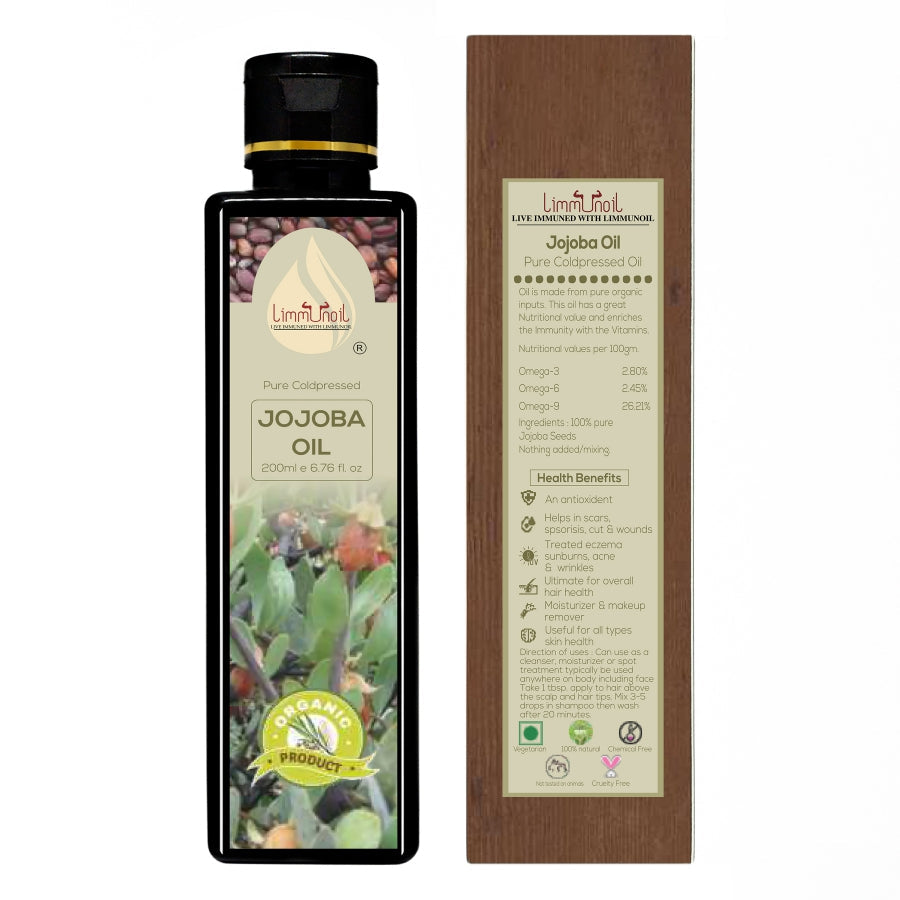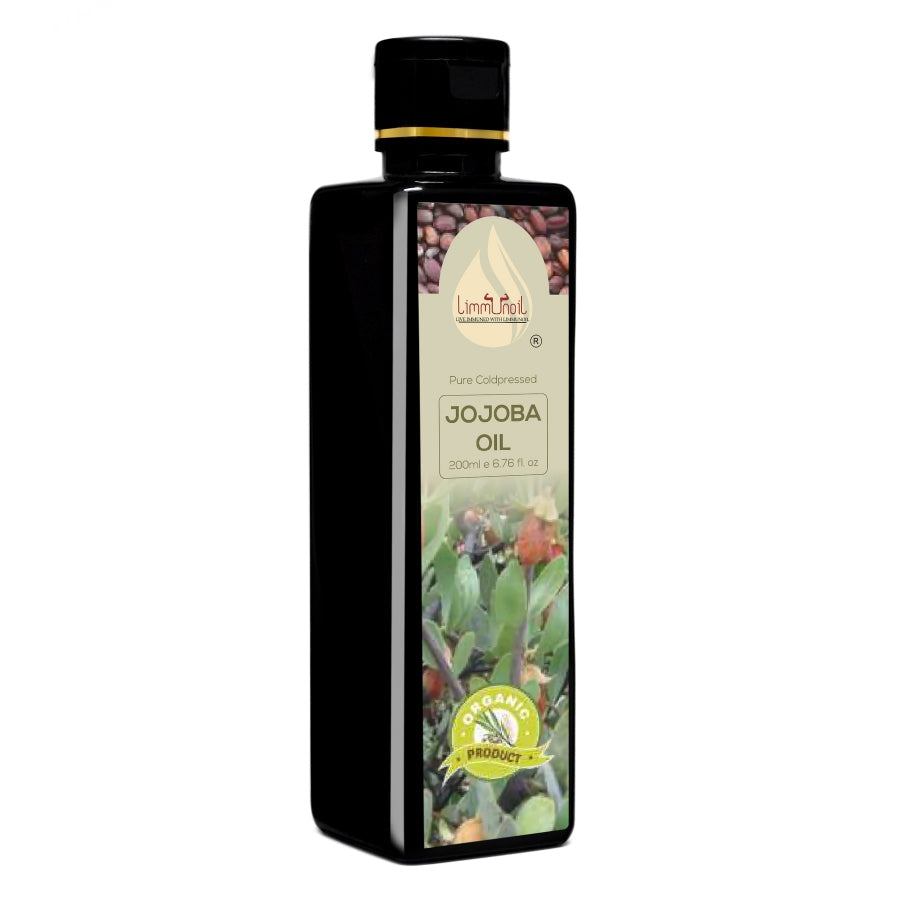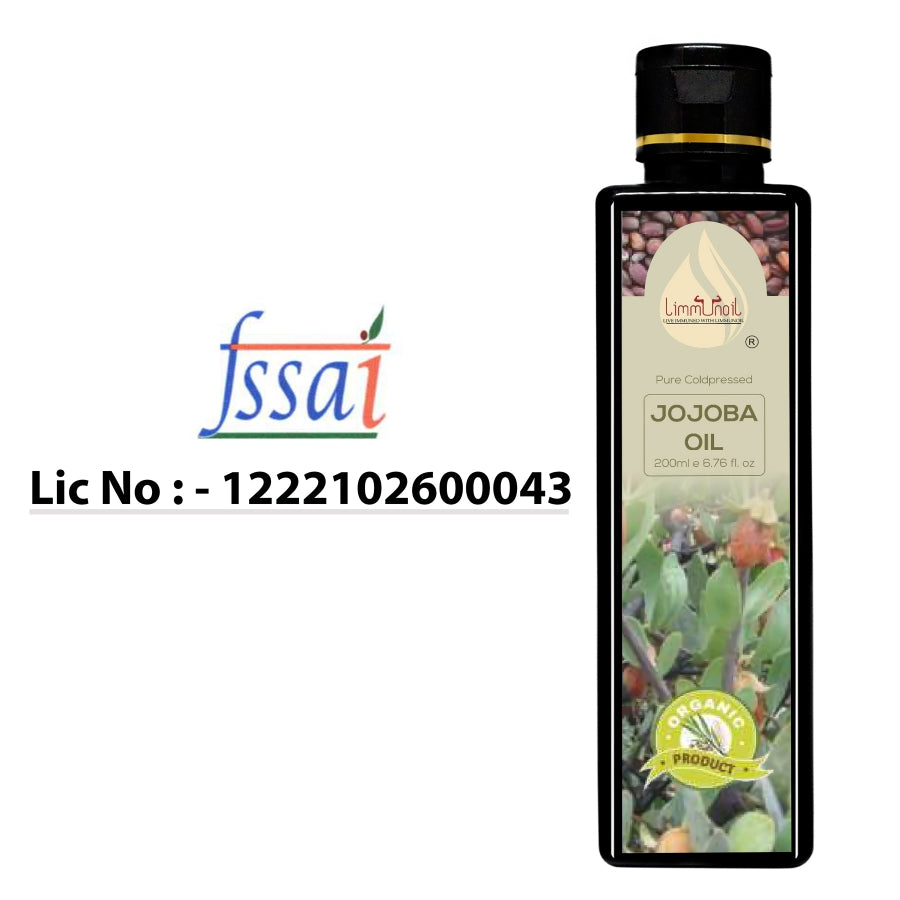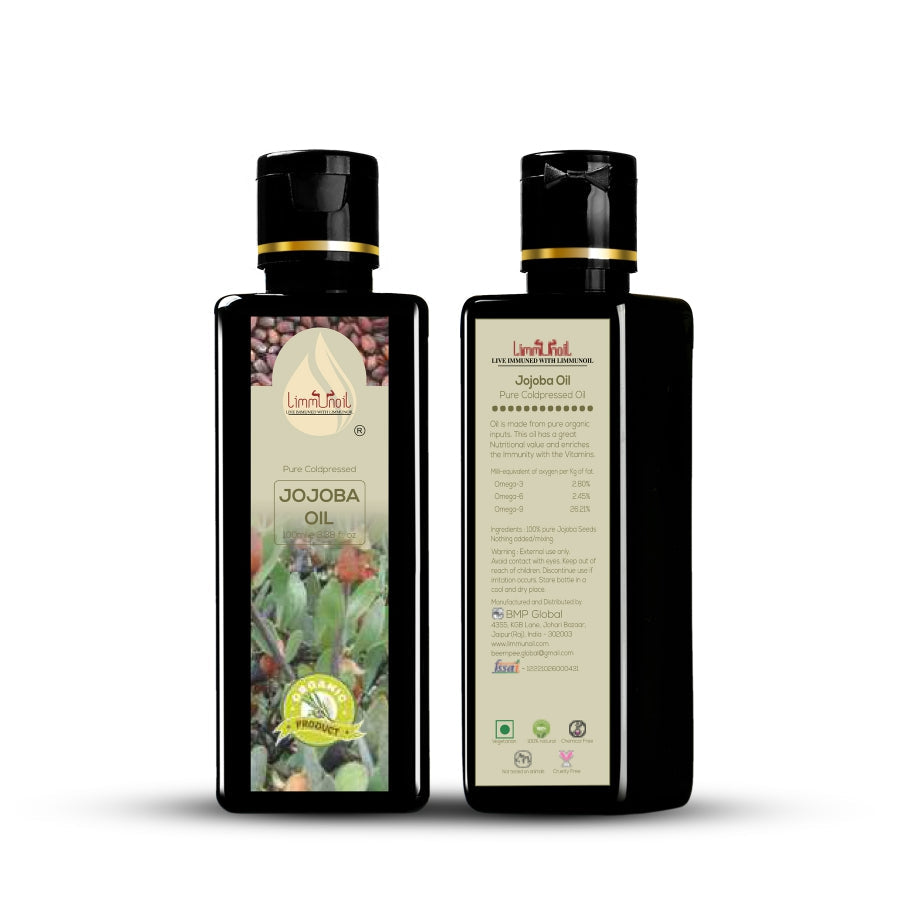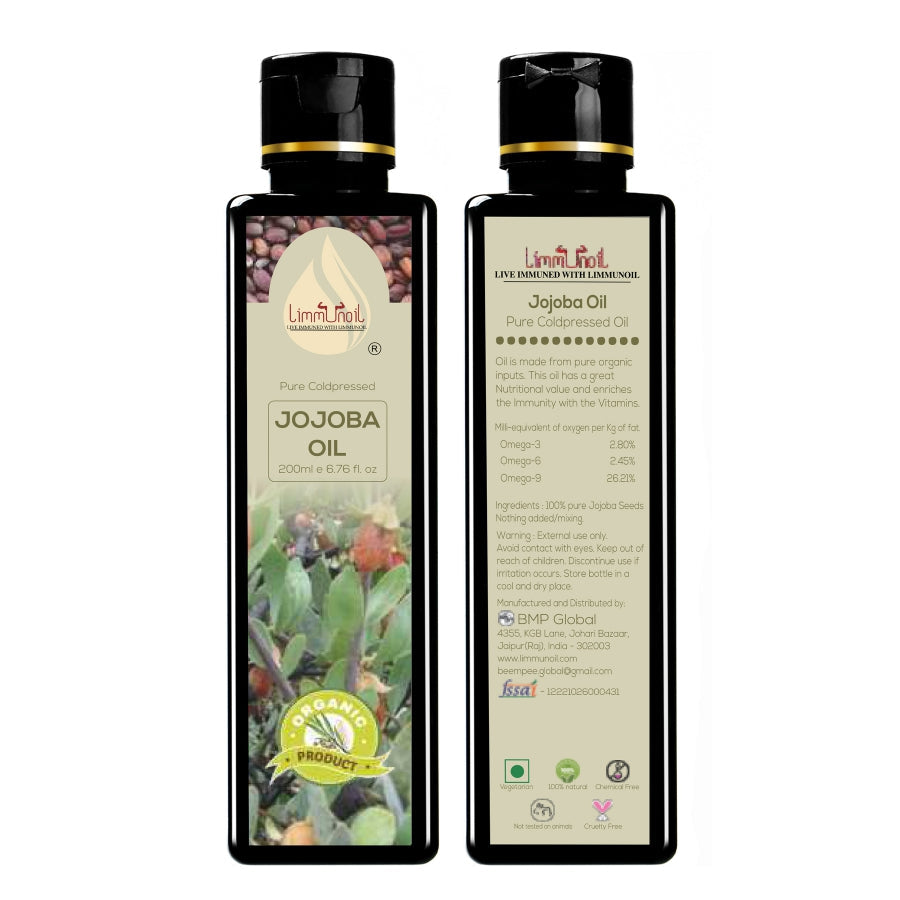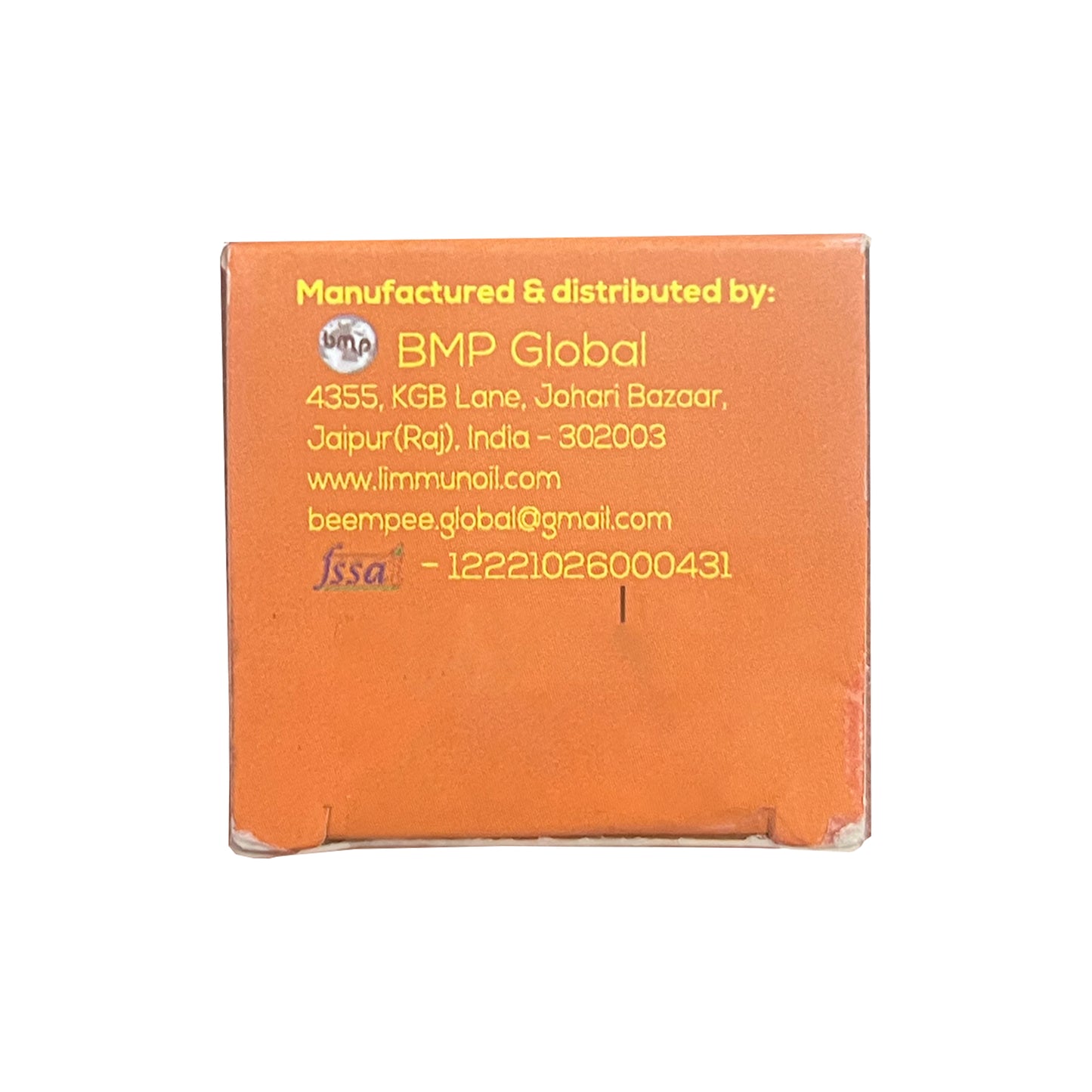 Benefits of Limmunoil Pure Cold Pressed Jojoba Oil
Moisturises the Skin

It's rich source of ceramides and thus helps to keep a child's skin hydrated for long.

Help to reduces Skin Inflammation

Antibacterial properties of Jojoba oil helps to reduce inflammation, swelling and redness of the skin.

Strengthens the Hair

Jojoba oil can be used as hair strengthening oil even for newborn babies and also prevent scalp dryness.

Protect from dryness

It's helps to improves skin barrier and protect against drying.

Works as a Body Oil

Limmunoil cold pressed Jojoba oil acts as an ideal body oil, and you can apply this on the baby's face as well as the body before bathing.

Promotes Hair Growth

It helps to reduces clogging of pores which reduces the amount of hair fall.
Frequently Asked Questions
Why Limmunoil Seems Expensive ?

At the first glance, it seems that we're expensive than other competitors on the market but in a real sense Limmunoil is value for money. Why?

First we extract oil by Hydraulic Press method. Which is the best way to extract the oil from the seeds. It doesn't involve human touch as well as not suspected to the environmental contamination. (Most our competitors extract oil in the open environment and you'll never know that wether you consuming oil or mixture of insects and flies).

We follow hygienic process while complete oil extraction process.

We don't add water in the extraction process.

Oil is extracted at room temperature (29 °C).

We provide 100% Pure Cold Pressed Oil in the True Sense.
What are Our Values ?

ॐ सर्वे भवन्तु सुखिनः

सर्वे सन्तु निरामयाः ।

सर्वे भद्राणि पश्यन्तु

मा कश्चिद्दुःखभाग्भवेत् ।

ॐ शान्तिः शान्तिः शान्तिः ॥

Means

"Om, may all beings be happy and at peace;

May all be free from suffering;

May all see what is auspicious;

May no one suffer.

Om peace, peace, peace."

We pray for the well-being of the Human Kind because you cann't achieve higher values in your life with a malfunctioning body.

We aren't just another camouflaged organic cold-pressed oil brand in the market, we are here to serve our people. We believe in the Indian Culture and our herbs are enough to deal with all your health problems. 
What is the shelf life of Limmunoil's cold-pressed oils?

Limmunoil's cold-pressed oils are known for their exceptional quality and freshness.

The shelf life of Limmunoil's cold-pressed oils is carefully preserved through our meticulous production process.

Typically, our oils have a shelf life of 1 to 3 years (Each oil have their own) when stored in a cool, dark place away from direct sunlight.

We recommend using Limmunoil's cold-pressed oils within this period to enjoy their optimal flavor, aroma, and health benefits.
Are Limmunoil's cold-pressed oils organic?

Yes, Limmunoil takes pride in offering a range of cold-pressed oils that are organic.

We source our ingredients from trusted organic farms and ensure that no synthetic pesticides, fertilizers, or harmful chemicals are used during cultivation.

Our commitment to organic practices guarantees that Limmunoil's cold-pressed oils are free from any genetically modified organisms (GMOs) and are produced in an environmentally sustainable manner.

By choosing Limmunoil, you can enjoy the goodness of pure, organic cold-pressed oils that promote your overall well-being.
Jojoba Oil For Baby Massage
Introducing the secret to keeping your little one's delicate skin soft and supple - Jojoba Oil!

Sourced from the seeds of the North American jojoba plant, our pure and high-quality jojoba oil is the perfect choice for baby massage. Its gentle yet effective moisturising properties help to prevent dryness and irritation, while its non-greasy and quick-absorbing formula makes it an easy choice for baby massage.

Plus, with the anti-inflammatory properties and hypoallergenic nature (containing no allergenic ingredients) of this preservative-free oil, you can rest assured that your baby's skin will be soothed and nourished without any worries of irritation or allergic reactions.

But why only stop at baby massage when Limmunoil's Jojoba Oil can be used for much more?

With Limmunoil, you can rest assured that you're getting a high-quality product free from chemicals and harmful additives.

Don't wait any longer to experience the benefits of jojoba oil. Try Limmunoil's Jojoba Oil today and see the difference! Trust us; your baby's skin will thank you for it!

Can I Use Jojoba Oil On Newly Born Babies?
As a new parent, you want the best for your little one, including caring for their delicate skin.

That's why jojoba oil is an absolute game-changer for a baby massage! Not only is it safe for even the newest of newborns, but it's also packed with excellent benefits, making it a perfect choice to keep your baby's skin healthy and happy.

How is Jojoba Oil Good For Baby Massage?
Closest Botanical Match to Skin's Natural Oil-
One of the most impressive qualities of jojoba oil is its similarity to the natural oils our skin produces. This means it works harmoniously with your baby's skin to regulate oil production and prevent dryness and irritation.
Skin Moisturising Properties-
Furthermore, Jojoba oil is deeply moisturising thanks to its rich vitamin and mineral content. With nourishing nutrients such as vitamin E, vitamin B complex, and zinc, it helps to promote healthy skin and heal any irritation or inflammation.
Quick- Absorbing Quality-
And when it comes to baby massage, you want an oil that absorbs quickly and doesn't leave a greasy residue. Jojoba oil is a perfect choice, as it is non-greasy and easily absorbed, leaving your baby's skin feeling soft and supple.
Gentle and Safe-
You want the best for your baby, which means choosing gentle and safe products. Jojoba oil is hypoallergenic and non-irritating, making it an excellent option for even the most sensitive skin types.
Anti-Inflammatory-
Baby's skin can be prone to inflammation and irritation, but jojoba oil has natural anti-inflammatory properties that can help soothe and calm the skin.
Pure and Natural-
You want to avoid harmful additives and fragrances in your baby's skincare products, and with jojoba oil, you can! When you choose a high-quality jojoba oil from Limmunoil, you can be confident that you are using a pure and natural product on your baby's delicate skin.

Direction Of Use
There's nothing like a soothing baby massage to help your little one feel calm and relaxed. And when it comes to using oil, jojoba oil is a top choice for its gentle and nourishing properties. But before you get started, here's what you need to know.

First, choose a high-quality, pure jojoba oil to ensure your baby's delicate skin gets the best possible care. To be extra cautious, perform a patch test on a small area of your baby's skin to ensure no adverse reactions.
When you're ready to begin, warm a small amount of the oil between your palms and start with gentle strokes. Remember to use light pressure and focus on areas that tend to get dry, like the arms, legs, and back. For added scalp care, gently massage the oil onto your baby's head to help prevent a cradle cap.
While massaging, pay attention to your baby's reactions. If your little one seems uncomfortable or fussy, take a break and try again later.

Regular use of jojoba oil can help keep your baby's skin soft, moisturised, and healthy. So go ahead, and treat your baby to a little TLC with the help of jojoba oil.

Which Is The Best Jojoba Oil For Baby Massage?
Looking for the best jojoba oil for your baby's delicate skin? Look no further than Limmunoil!

Our jojoba oil is carefully extracted from organic seeds using the Hydraulic Press Oil Extraction technique, ensuring it is free of toxins and contaminants that can harm your baby's skin.

We understand the importance of using safe and natural products on your baby's skin. We take pride in providing a Pure, Natural Product that is Cruelty-Free And Made In India. Our oil is never contaminated with harmful chemicals or water, so you can trust that your baby is getting the best.

We extract the oil's natural aroma and benefits at Room Temperature Without Any Human Touch Involved And No Extra Heat to maintain the oil's natural aroma and benefits. This ensures that the oil retains all of its natural goodness, making it the perfect choice for your baby's massage needs.

We know that packaging is also essential when it comes to baby products. That's why our Containers Are Safe For Kids And Won't React With The Oil, keeping it fresh and pure for your little one's sensitive skin.

So why wait? Choose Limmunoil for the best jojoba oil for your baby's gentle massage needs.

Limmunoil
In this competative market, where most of the so called natural brands sell you a bottle of Mineral oil in the name of Coconut or Almond oil; Limmunoil, on the other hand following the path of legendary Shree Rajiv Dixit ji aims at providing the highest quality cold-pressed oil with Zero tolerance of adulteration, heating and mixing of oils.
We believe in Ayurveda
We believe in Swadeshi
We believe, if you consume our traditional herbs in its purest form, most of your health problems will go away, so
Lets take a step towards Purity.
#noadulteration
#gowithayurveda