Regular price
Rs. 199.00
Sale price
Rs. 179.00
Unit price
per
Sale
Sold out
3 Offer Available
EXTRA 10% OFF on PREPAID ORDERS by using Debit/Credit Card/UPI
SALE: Upto 20% Off On All Orders

Order On
WhatsApp
100% NATURAL, PURE, UNREFINED: Can be used for Internal Consumption & External application
PREMIUM QUALITY SEED: Seeds imported from Organic Farms.
QUALITY GUARANTEED: Guaranteed to be authentic, Only cold-pressed oil, No heating, no preservatives, no mineral oil and fragrances.
RICH IN NUTRIENTS: Cold pressing technology preserves the vital nutrients, rich aroma and flavour of real flaxseeds. 
HIGH IN OMEGA-3 FATTY ACIDS: Fulfils the daily requirement of fatty acids.
REDUCE CANCER CELL GROWTH: May reduce may reduce cancer cell growth.
REDUCE MENOPAUSE SYMPTOMS: Studies suggest it's helpful in Menopause symptoms. 
Share
Ingredients

Pure flaxseed oil extracted by cold pressed method without exposure to heating.
How to use

Flaxseed oil has a moderate flavor. There are many ways to use it, from a spoonful straight to a sauce or dip.

You can use Flaxseed oil topically or consume it in many ways.
Avoid consumption
Pregnant women, Breastfeeding mothers
View full details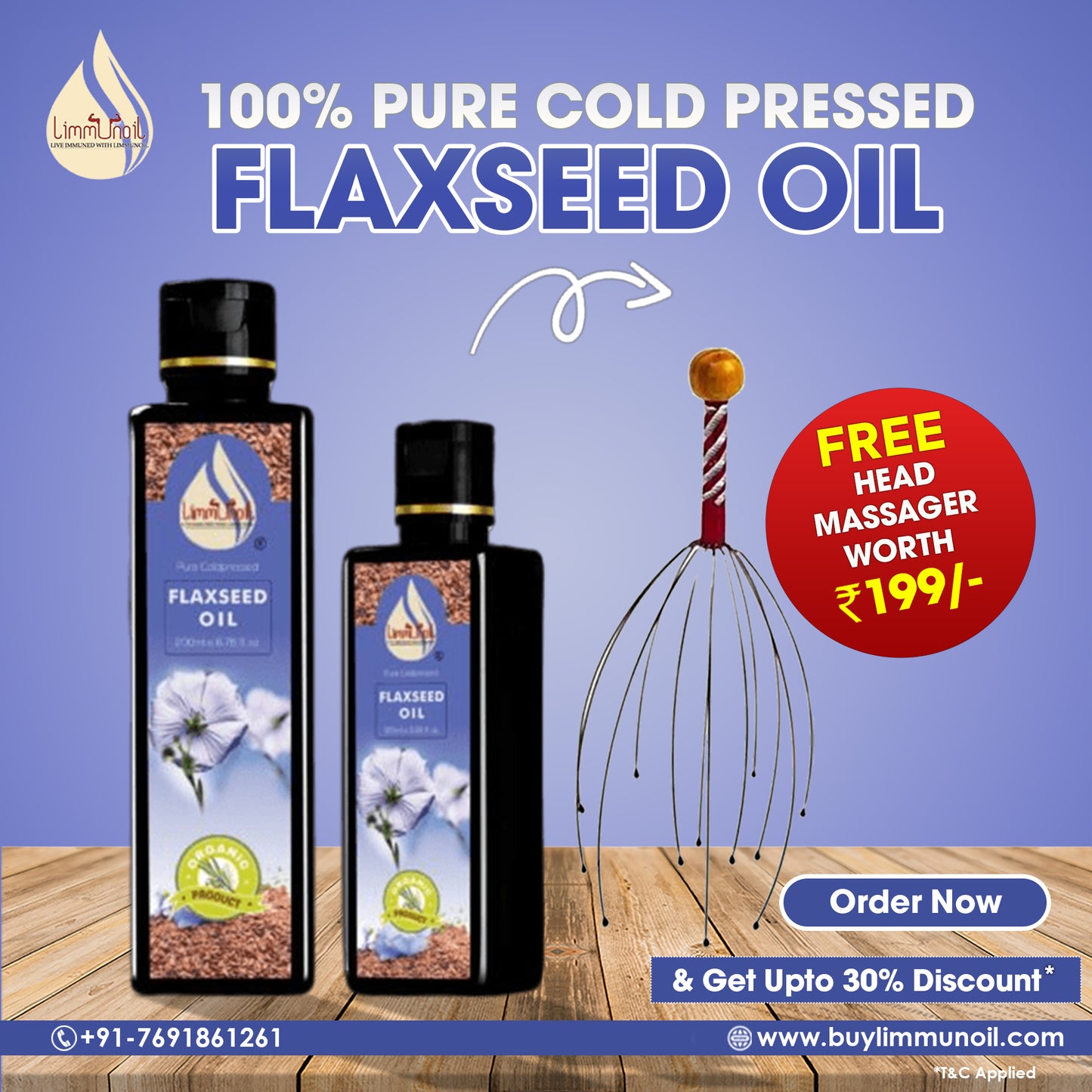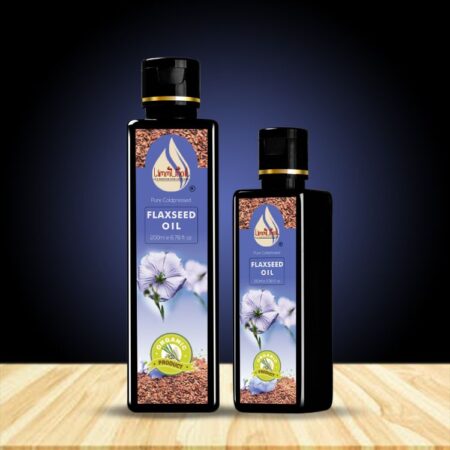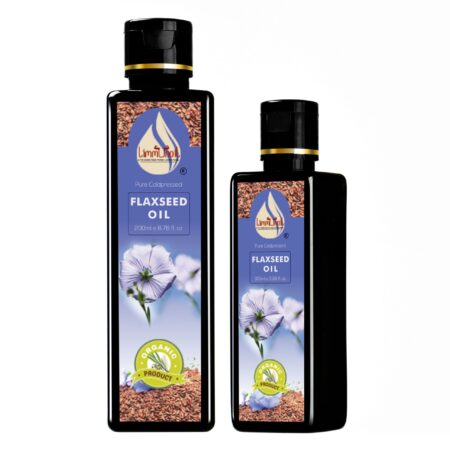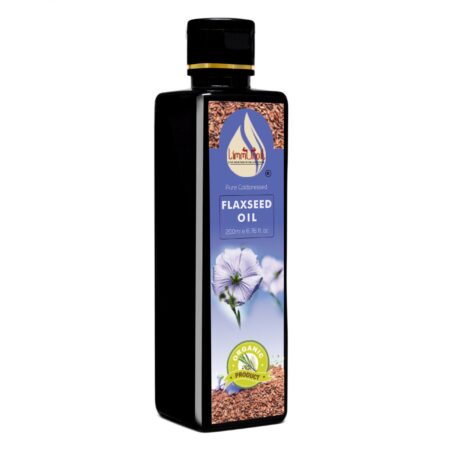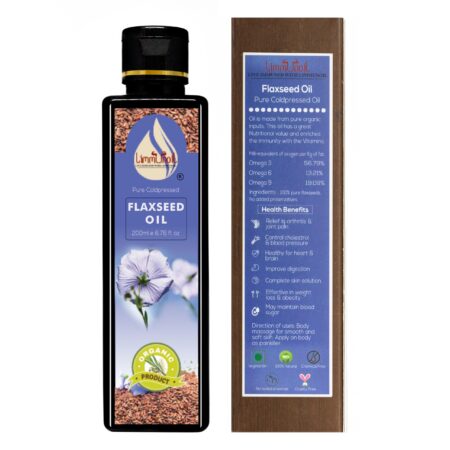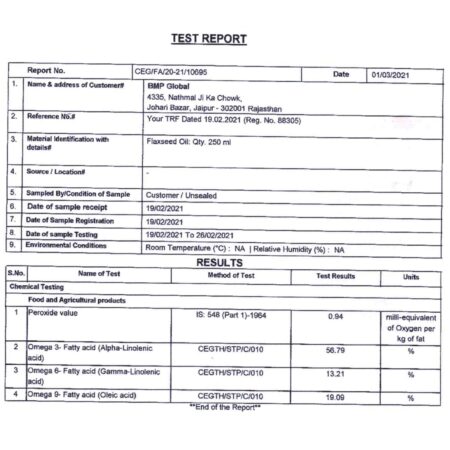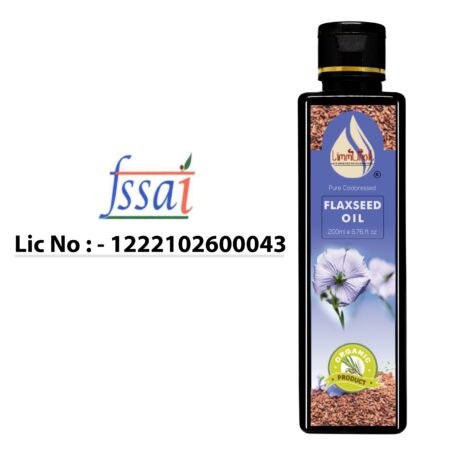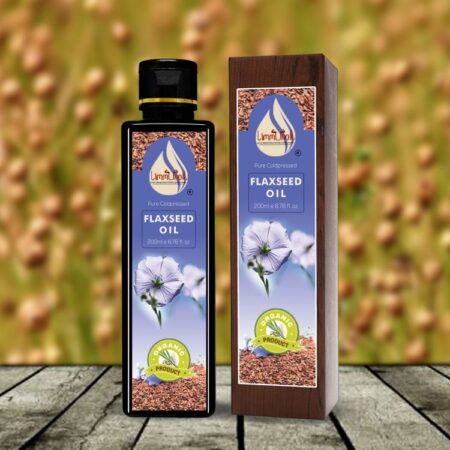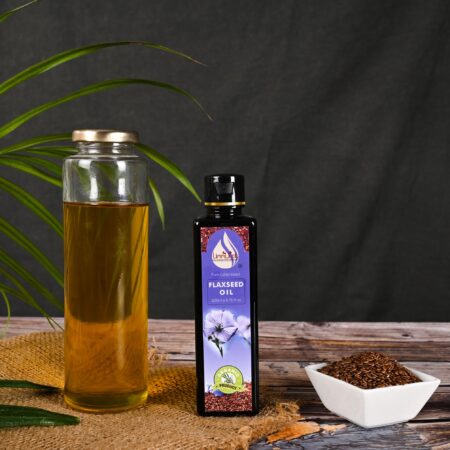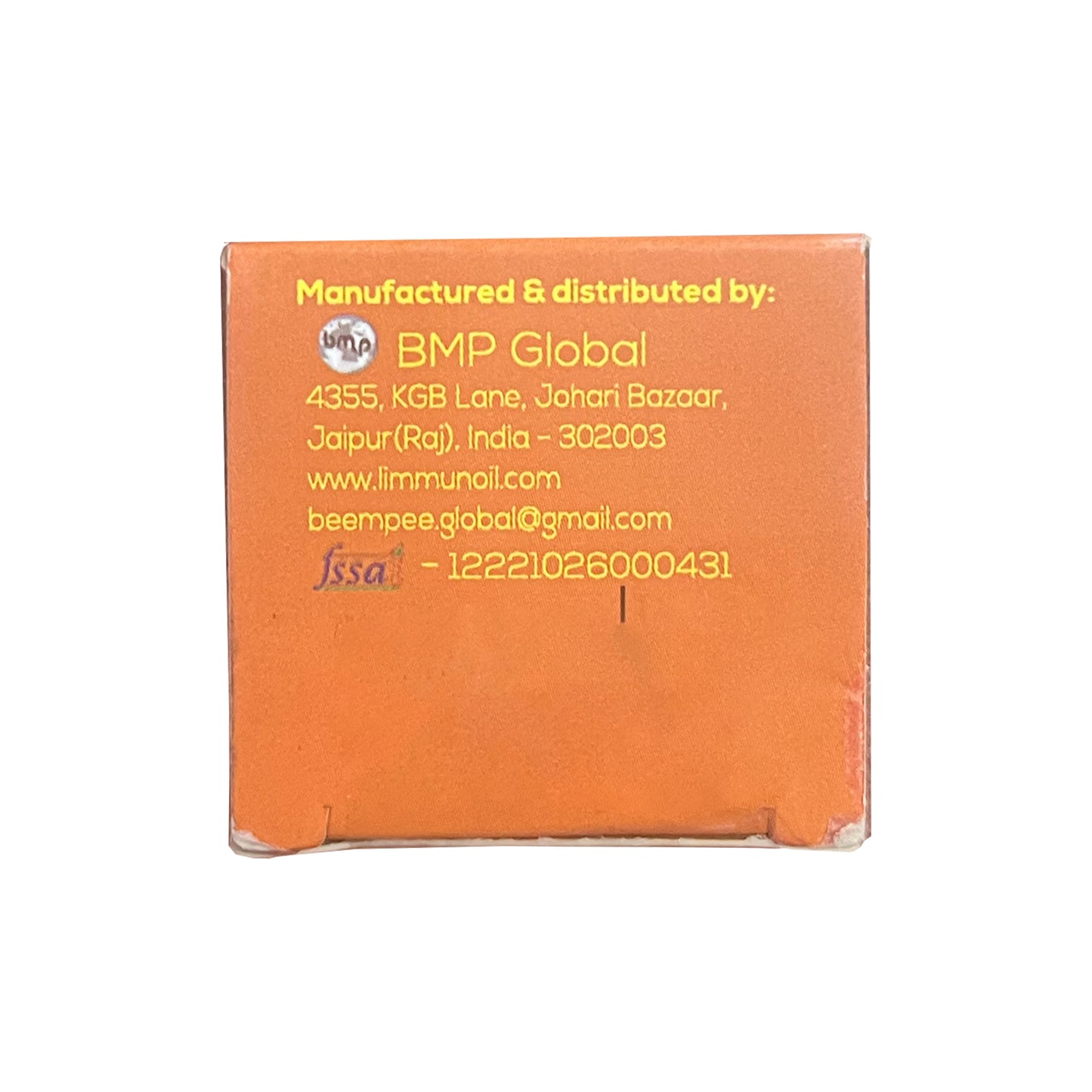 Benefits
Improves skin health

Flaxseed oil will improve Skin health and make your skin more radiant.

Improve Skin Smoothness

Flaxseed oil consumption helps in improves skin smoothness.

Work as skin Moisturizer

Flaxseed oil is really good for your skin, it keeps the skin moisturized for a long time.
Frequently Asked Questions
Why Limmunoil Seems Expensive ?

At the first glance, it seems that we're expensive than other competitors on the market but in a real sense Limmunoil is value for money. Why?

First we extract oil by Hydraulic Press method. Which is the best way to extract the oil from the seeds. It doesn't involve human touch as well as not suspected to the environmental contamination. (Most our competitors extract oil in the open environment and you'll never know that wether you consuming oil or mixture of insects and flies).

We follow hygienic process while complete oil extraction process.

We don't add water in the extraction process.

Oil is extracted at room temperature (29 °C).

We provide 100% Pure Cold Pressed Oil in the True Sense.
What are Our Values ?

ॐ सर्वे भवन्तु सुखिनः

सर्वे सन्तु निरामयाः ।

सर्वे भद्राणि पश्यन्तु

मा कश्चिद्दुःखभाग्भवेत् ।

ॐ शान्तिः शान्तिः शान्तिः ॥

Means

"Om, may all beings be happy and at peace;

May all be free from suffering;

May all see what is auspicious;

May no one suffer.

Om peace, peace, peace."

We pray for the well-being of the Human Kind because you cann't achieve higher values in your life with a malfunctioning body.

We aren't just another camouflaged organic cold-pressed oil brand in the market, we are here to serve our people. We believe in the Indian Culture and our herbs are enough to deal with all your health problems. 
What is the shelf life of Limmunoil's cold-pressed oils?

Limmunoil's cold-pressed oils are known for their exceptional quality and freshness.

The shelf life of Limmunoil's cold-pressed oils is carefully preserved through our meticulous production process.

Typically, our oils have a shelf life of 1 to 3 years (Each oil have their own) when stored in a cool, dark place away from direct sunlight.

We recommend using Limmunoil's cold-pressed oils within this period to enjoy their optimal flavor, aroma, and health benefits.
Are Limmunoil's cold-pressed oils organic?

Yes, Limmunoil takes pride in offering a range of cold-pressed oils that are organic.

We source our ingredients from trusted organic farms and ensure that no synthetic pesticides, fertilizers, or harmful chemicals are used during cultivation.

Our commitment to organic practices guarantees that Limmunoil's cold-pressed oils are free from any genetically modified organisms (GMOs) and are produced in an environmentally sustainable manner.

By choosing Limmunoil, you can enjoy the goodness of pure, organic cold-pressed oils that promote your overall well-being.
Cold Pressed Flax Seeds Oil For Skin

Skin can benefit greatly from this oil. Omega 3 fatty acids and Alpha-linolenic acid are abundant in flaxseed oil and encourage cell renewal, keeping the outermost layer of skin looking young and healthy.
Cold Pressed Flax Seeds Oil benefits for face and skin are the following:

Skin Moisturiser-
Numerous important fatty acids in flaxseed oil moisturise skin and keep it healthy, supple, and soft. Additionally, it will heal any harm from sunlight, heat, and the environment. It unclogs clogged pores for skin detoxification.

Premature Aging Prevention-
Cold-pressed flaxseed oil prevents skin from rapidly ageing by minimising fine lines and wrinkles appear because of its natural antioxidants feature. Due to the high fatty acids and Vitamin E concentrations of Vitamin E, this oil defends against dark circles, sunburn, dark circles, and other environmental skin damage under the eyes.

Skin Issues Prevention-
Because of its anti-bacterial and anti-inflammatory qualities, cold-pressed flax seeds oil may also assist in relieving psoriasis, rashes, irritations, acne, and other minor skin issues. Cold Pressed Flax Seeds Oil for face also contributes to a healthier and more youthful look.

Cold Pressed Flax Seeds Oil For Hair

Flaxseed oil contains vitamin E, which promotes new hair development and treats hair loss. The oil is also beneficial for brittle or damaged hair. Lignans, powerful antioxidants, may aid in stronger and thicker hair regrowth. Applying it reduces dandruff by nourishing the skin from the inside out and preventing flaking.

Cold Pressed Flax Seeds Oil benefits for hair are as follows:

Useful For Frizzy Hair
Cold Pressed Flax Seeds Oil for hair is more viscous and absorbs more readily into the hair. It improves the manageability of curly hair and serves as a veiled
styling tool.

Increases Shine
The oil's high vitamin E content enhances the vibrancy of your hair's pigment and subtly makes it glossier.

Improves Hair Strength
The cold pressed flax seeds oil has abundant omega-3 fatty acids, improving hair strength.

Useful To Prevent Dandruff
Cold-pressed flax seeds oil reduces dandruff by reducing scalp inflammation since it has anti-inflammatory qualities. Additionally, flaxseed oil contains an amino acid that may combat bacteria and lessen dandruff while retaining moisture and preventing dandruff.

Hair Growth Stimulator
The capacity of cold-pressed flaxseed oil to encourage strong hair development is also well-known. The B vitamins in the oil strengthen and nourish hair.

Healthy Scalp
Cold-pressed flax seeds oil assists in controlling sebum production that maintains the health of your hair and scalp by promoting a more favourable climate for hair growth. Because of its capacity to hydrate, it maintains your hair moisturiser and aidll s in treating dandruff and a dry scalp, and Cold Pressed Flax Seeds Oil good for hair.


Is Cold Pressed Flax Seeds Oil Comedogenic?

Cold-pressed flaxseed oil is not harmful when used on hair and is extremely light and emollient. Therefore, it could be used without being concerned about acne.

Is Cold Pressed Flax Seeds Oil good for oily skin?

Oily skin and blocked pores are helped by cold-pressed flaxseed oil. Flaxseed has fatty acids that restore the skin's youthful look by toning, tightening, plumping, and firming it.

Directions to use for skin-

The best method to get smoother and softer skin is by massaging cold-pressed flaxseed to the skin with a light rub before taking a bath.
You can also apply a few drops of oil to your skin a minimum of once daily to avoid fine lines and wrinkles.

Directions to use for hair-

Massage the scalp and hair with warm cold pressed flaxseed oil and coconut, almond, or olive oils before washing them.
Apply cold-pressed flax seeds oil (dime-size) to dry or damp hair to manage untamed and frizzy hair.
For thicker and shiny hair, massage your scalp with warm flaxseed oil, rub it on the scalp with your fingers for ten minutes, and then through the remaining hair strands. Rinse after one hour of application.


Which Is The Best Cold Pressed Flax Seeds Oil For Skin And Hair?

When looking for a smoother, younger, healthier, and more radiant complexion and healthy hair, Limmunoil's Cold Pressed Flax Seeds oil is the best.

- Our oil is Rich In Nutrients that help stops dandruff while stimulating hair development and nourishing the scalp and skin.
- It has Premium Quality Seeds, which benefit your hair and skin.
- The oil is 100% Natural, Pure, Unrefined, with Quality Guaranteed, giving your hair and skin the desired health and texture.
- Our oil is High In Omega-3 Fatty Acids, fulfilling the everyday requirement.
- This oil Reduce Cancer Cell Growth and Reduce Menopause Symptoms.

The anti-inflammatory, anti-bacterial, and antioxidant-rich benefits of cold-pressed flaxseed oil from Limmunoil will make it a useful treatment for many skin and hair problems. With numerous benefits, we expect you will consider our cold-pressed flaxseed oil to enhance hair and skin texture.

Limmunoil
In this competative market, where most of the so called natural brands sell you a bottle of Mineral oil in the name of Coconut or Almond oil; Limmunoil, on the other hand following the path of legendary Shree Rajiv Dixit ji aims at providing the highest quality cold-pressed oil with Zero tolerance of adulteration, heating and mixing of oils.
We believe in Ayurveda
We believe in Swadeshi
We believe, if you consume our traditional herbs in its purest form, most of your health problems will go away, so
Lets take a step towards Purity.
#noadulteration
#gowithayurveda